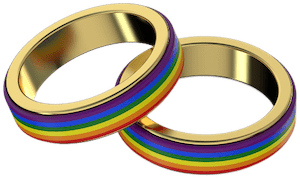 Cheaper Prices for LGBT+ Counselling Services
Cheaper prices for accessible counselling. The costs listed below apply to UK citizens and are applicable regardless of where you live in the UK. Prices that are less expensive than local, face-to-face services. British Video Counselling Service ~ designed exclusively for - and operated by - LGBT /QIA+. Fees for couples, groups or individuals. Pay for the specific service you need. You're thinking about bringing your most precious relationship(s) to the Specialist LGBT / QIA+ & Mixed Sexuality Counsellor. Don't wait. You can afford counselling and start private sessions by next week.
How Fees Work for Counselling
Affordable Prices
Competitively priced private counselling prices, from the highly qualified, experienced & effective local & video counsellor, Dean Richardson MNCS(Accred/Reg).
Sessions are payable weekly, so no surprisingly large invoice at the end of the month.
Pay only for your Preferred Service
No over-paying for services you won't use. Simply pay the price for the specific counselling service that you and your partner, you and your group, or you alone choose.
You'll choose the service at the beginning, and pay for that single service until we say farewell.
Sliding Costs Scale
Trouble affording private counselling? When I have places available I can support a lower price-per-session.
You'll work out what you can responsibly afford per each therapy session, and this rate can become your agreed fee.
My Cheaper Price Guarantee
During the time we are working together, the price-per-session (agreed at the beginning of our contract) will not increase.
Whether we meet for a handful of sessions or for several years, the price at the start will be the same as the price at the end.*
Compare my Price Guarantee with other therapy services which may build in an annual fee increase. This is typical with local counselling charities, and sometimes a surprise from private counsellors.
My guarantee also applies to your fee when I increase my Advertised Standard Prices. Such an increase will apply to new clients, only. The fee that you are paying will not change.
* During our work should we agree for you to pay a lower fee (i.e. sliding scale / a fee you can responsibly afford) the fee you pay will be based upon your income and expenses. So, when your circumstances change (e.g. you gain a larger income, or your expenses change) then your fee will change to reflect this fairly. Similarly, if you have a temporary reduction in income and we agree a temporary reduction in our per-session price, your original fee will resume when your income resumes. This is to sure that you are always paying what you can afford responsibly.
Pay what you can afford
If your combined income and/or savings make my published fees a struggle to afford, and if you can justify your need for lowered-fee counselling, please get in touch to talk with me about costs. We may be able to agree a lower fee or a set number of sessions that you could budget for responsibly. Note: places for lower-fees are not always available.
Each service attracts its own distinct price.
Payable Weekly: All fees are payable in advance of each weekly session. Acceptable payment methods are: credit card, debit card, BACS bank (app) transfer, PayPal and iZettle.
Lower Fees: The counselling service you opt-for has an associated fee.  You choose which particular service you want for the whole time we meet together. For ethical and logistical reasons, I do not support someone entering multiple services with me (eg entering couple counselling with me along with your partner, and individual counselling with me alone). If in doubt we can discuss options beforehand.
Difficulty Choosing a Service? Get in contact and we can discuss options for your particular situation.
Cheaper Prices than Local Face-to-Face Services
Individual Counselling Prices
for 1 person
Ideal for Individuals

Ideal for Couples

Ideal for Established Polyamorous/Non-monogamous Groups

Price is Payable weekly

Available in Havant (Face-to-Face)

Available online via Zoom/Skype Video (click for details…)
50 minute sessions (by default)

90 minute sessions (£95.00)
Couple Counselling Prices
for 2 people
Ideal for Individuals

Ideal for Couples

Ideal for Established Polyamorous/Non-monogamous Groups

Price is Payable weekly

Available in Havant (Face-to-Face)

Available online via Zoom/Skype Video (click for details…)
50 minute sessions (by default)

90 minute session (£130.00)
Group Counselling Prices
for 3 to 8 people
Ideal for Individuals

Ideal for Couples

Ideal for Established Polyamorous/Non-monogamous Groups

Price is Payable weekly

Available in Havant (Face-to-Face)

Available online via Zoom/Skype Video (click for details…)
50 minute sessions (not available)

90 minute sessions – only
Counselling Prices: Additional information
During British Lockdown, Video Counselling via Zoom / Skype continues with no restrictions (face-to-face services are currently suspended).
† Prices shown for Group Counselling are: per session per person. EG 3 people attending would cost £40 multiplied by 3.
The counselling fees for couples assumes that the fee is managed between you both (eg dividing the total cost proportionally according to what each partner may responsibly afford).
The counselling fees for groups assumes that the total cost is managed within your group (eg dividing the total cost proportionally according to what each member may responsibly afford).
If your circumstances require, I may be able to negotiate a lower fee based upon what you can responsibly afford for each weekly session. This would involve an open discussion about your income, expenditure and savings (e.g. if you were both paying an expensive weekly expense for social reasons, I would anticipate a discussion on how you might temporarily forego this expense during our work – private counselling cannot subsidise your optional activities by reducing session fees). Please bring this matter up when you contact me.
Fees are per 50-minute weekly session by default for individuals and couples, or optionally 90 minutes weekly by prior arrangement. Groups are weekly 90 minutes only.
Sessions may be arranged for more than once a week only after first having a conversation with your counsellor.
Compare Fees with other Services in the UK
Counselling fees can vary wildly across Great Britain. You have a much wider selection of counsellors to choose from. You're considering counselling service available over video which are cheaper than local, face-to-face counselling services.
Rather than feeling compelled to choose a local counsellor, you can choose someone from anywhere in the United Kingdom. Someone with the same qualifications or competency to practice as those closer to you, but who works in a less expensive region than were you live.
Here are some fees from across Great Britain for comparison.
London British CBT Counselling Service

£135

(Video).

One Therapy (London)

£130

(Couples).

The School of Live

£100

Tavistock Relationships (London)

Approx

£80

(aka £2 per £1,000 of shared gross income).

Edinburgh Therapy

£85-£100

Counselling Edinburgh

£80

Yorkshire

Various services ranging from £45 to

£120

Wales

Various services ranging from £70  to

£170

(fortnightly).

Northern Ireland

£55.
Prices correct as of March 2021 independent research. Prices highlighted in red are more expensive than services offered by LGBTCoupleCounselling.co.uk.
How will you Pay for Counselling?
Counselling Sessions are weekly, so the fee that you pay will be weekly too.
24-hours-or-so before your session you'll pay for your session either using your credit card, debit card or banking app bank transfer (BACS). Then you attend your counselling session at the scheduled appointment time.
You can also pay with a banking standing order, although you'd need to manage the days when sessions are not scheduled (such as Bank Holidays, planned vacations, or unplanned cancellations).
Paying with your credit card or debit card can be done via the Make a PayPal Payment page – which uses PayPal or the iZettle card processing services.
Paying via your bank can be done after a conversation during our first session to share my bank details.
Unlimited or Set Number of Counselling Sessions
NHS facilities and some mental health charities offer you a limited or set number of sessions. The limit may be around 6 or 12 sessions. Sometimes this may mean you will end counselling before your full requirements are addressed.
Dean effective therapy approach comes from his private practice. He asks you to commit to a regular, weekly attendance. The number of sessions available to you has no artificial limit. You can attend for as long, or short, as therapy is helping.
When our counselling work is established, you may like to discuss setting number of sessions. This can help with budgeting, availability, new matters coming into the counselling, or other matters. We will discuss possibilities before changes were put in place so that everyone is happy.
Primarily, as your distinct relationship, the therapeutic needs of the couple are of great concern. Financial matters are important, and we can amply deal with those.