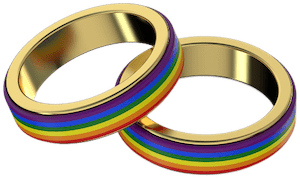 Chichester LGBT/Q+ Couple Counselling ~ West Sussex Relationships
LGBT Couple Counselling began via a private counselling practice in Chichester, West Sussex. Hosted within ~ and independent of ~ Chichester Counselling Services, Counselling for LGBT/QIA+ Couples & Groups began in 2010 independent of the local charity.
Beginning a Counselling Practice in West Sussex
The History
I began my formal counselling diploma training at Chichester Counselling Services (aka "CCS", a BACP Accredited training centre). After qualifying I continued working in charity for a further 5 years until, in 2010, I became interested in setting up my private practice.
Along with renting rooms within Charterhouse Counselling Ltd, I took the opportunity to rent room from CCS, who had begun to offer accommodation to private practitioners.
It was working in Chichester in 2010/11 that I met with my first lesbian couple – and hence LGBT Couple Counselling sprung into life.
Although I am no longer working (physically) in Chichester and surrounding areas of West Sussex, LGBT Couples from the local area still work with me using video counselling…
AVAILABLE NOW: LGBT/Q+ Relationship Counselling ~ from the safety of your own home, office or car ~ using the Secure Technology that you already have in your pocket, tablet & computer…
Meanwhile, access to LGBTQ relationship counselling is available to Chichester and areas near West Sussex couples and groups.
Counselling for Gay, Lesbian, Bisexual & Asexual relationships via LGBT Counselling Services over Zoom & Skype makes effective use of technology. You don't even need to leave home to access a fully qualified counsellor who specialists in counselling for your particular form of relationship.
Where to Find my Chichester Practice
Chichester Counselling Services
was originally at the top floor of 40 North Street, Chichester, when I joined as a counselling student. By the time I was ready to enter private practice, the charity had moved to 32 Little London, Chichester PO19. It is currently living at 106-108 The Hornet, Chichester PO19 7JR (the first floor above Hargroves Cycles).
Chichester was my first location as an established Private Counselling Practice, in addition to renting rooms within Portsmouth's Charterhouse Counselling.
Along with my new practice here, I established the website: iCounsellor.co.uk (remember when the first Apple iPhone was released that same year?!).
LGBTQ+ Relationship Therapy Service Highlights
Gay Marriage Counselling
Counselling specifically aimed at gay marriages, civil partnerships and common-law LGBT partnerships.
LGBTQ+ Couples Counselling
Counselling for LGBTQ+ Couple Partnerships regardless of sexuality nor gender-identification.
Open Relationship Counselling
Counselling for partnerships having opened, or thinking of opening, their couple relationship.
Polyamorous Group Counselling
Counselling for established polyamorous groups - or newly forming polyamory / non-monogamy.
Sex Counselling for LGBT/QIA+
Counselling for partnerships struggling with intimate sex lives.
Separation Counselling
Counselling for LGBT Relationships that have to come to an end: planned or otherwise.