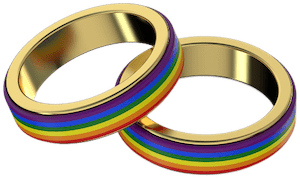 Portsmouth - LGBT Couple Counselling
Portsmouth: LGBT Couple Counselling is a service exclusively for gay, lesbian, bisexual & asexual intimate couples & groups. Established in 2010 as a private, independent service for areas near Portsmouth (Hampshire, UK). Originally Based within the private therapy organisation: Charterhouse Counselling Ltd, and available online via Zoom & Skype.
Beginning a Private Counselling Practice
After ten years of working as a counsellor within the charity: Chichester Counselling Services, I became interested in establishing my own private counselling practice.
In 2010, Charterhouse Counselling Ltd was hosting private, established counsellors who would take on work referred to by Charterhouse whilst also working with their own privately sought clients.
Charterhouse Counselling it was based in Portsmouth, UK. The Portsmouth location closed a few years later, before relocating to Gosport.
My new private counselling service for LGBTQ+ Couples & Groups was established in 2010. It specialised in therapy for gay, lesbian couples and expanded into groups of multiple sexual orientations. It was available on Monday afternoons and evenings, as well as Friday afternoons and evenings.
These services exclusive to LGBTQ+ remain accessible to areas near Portsmouth and Hampshire via my LGBT Counselling Services over Zoom & Skype (click that button!).
Where you'd Find my Portsmouth Counselling Practice
Charterhouse Counselling Ltd was located just before the corner of Landport Terrace and Kings Road, PO1 2. It was a three-story, private building that had been converted into two floors of counselling offices, a reception area on the ground floor and a basement used for groups and child therapy. My room was located upon on the top floor.
Portsmouth was my first location as an established Private Counselling Practice. At this time I was also renting the occasional room within my old charity: Chichester Counselling Services.
At the time of establishing my practice counselling practice, I established the websites: iCounsellor.co.uk (remember when the first Apple iPhone was released that same year?!) and PortsmouthCounsellor.co.uk. 
Overall, I must have spent a little over a year at Portsmouth's Charterhouse Counselling. I took the decision to move to more accommodating premises – with access to wheelchair users – little further south into Hampshire.
The Marple Cross Centre in Southsea was my counselling practice's next port of call.
LGBTQ+ Relationship Therapy Service Highlights
Gay Marriage Counselling
Counselling specifically aimed at gay marriages, civil partnerships and common-law LGBT partnerships.
LGBTQ+ Couples Counselling
Counselling for LGBTQ+ Couple Partnerships regardless of sexuality nor gender-identification.
Open Relationship Counselling
Counselling for partnerships having opened, or thinking of opening, their couple relationship.
Polyamorous Group Counselling
Counselling for established polyamorous groups - or newly forming polyamory / non-monogamy.
Sex Counselling for LGBT/QIA+
Counselling for partnerships struggling with intimate sex lives.
Individual Counselling
Counselling for an LGBT/QIA+ Individual.