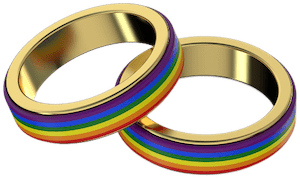 Problems LGBT Couples Work through in Counselling
The distinct problems that we as LGBT couples may face can leave us feeling isolated. We may not not have many LGBT allies nearby to help. The difficulties that gay, lesbian, bisexual, and trans couples sometimes face can leave us unsure of what to do. Our straight friends may not understand our difficulties. We're left with our partner feeling isolated and unsure of how we fix things. But our issues are solvable. An effective first step is to understand that our problems are regularly commonplace; such knowledge that can take away some of the shame.
Learning Couple Conflict & Problem Management
LGBT Couples can struggle with shame or embarrassment when faced with seemingly unresolvable relationship problems. It seems like all non of our friends struggle, so why are we? It might feel like a defeat to take our relationship problems into counselling.
But, below, I'll be summarising some of the common problems that all LGBT couples have worked-through in counselling. This can help you to appreciate that the distinct problems that your couple relationship is experiencing can likely be worked through too, in partnership with Counsellor Dean Richardson. Perhaps this assurance might lend you some courage and deal with any shame or embarrassment.
Note: for confidentiality and privacy reasons, non of these subjects are refering to any specific couple nor to any particular case. It would not be unusual, though, for you to identify with one or more subjects yourself.. and that's kinda the point 😉
The Surprise of Conflict Tenacity
The dream was supposed to be simple: fall in love, move in together, maybe even marry. Any issues could be solved with a little effort.
However, you discovered that problems arose and didn't go away. They persisted. They were never fully resolved, and you both somehow made the conflicts worse with each attempt at resolution. It appeared almost as if your relationship was fuelling the conflicts. You had no idea what the solution was.
And this is where Counselling for LGBT Couples is the concept through which the solution is created. We will identify the problems together and learn some new information. With new information comes newly informed options for you both to consider. We'll work together to develop new behaviours that will enable both of you to deal with existing problems as well as new ones as they arise.
Couple Counselling is not a magical solution – but it is a powerfully effective one.
Problems LGBT Couples Struggle With 
As a gay, lesbian, bi or mixed-sexuality couple or group, any of these situations may seem familiar to either of you. It can help knowing that your relationship difficulties – whilst private – may not be as distressing or shameful as you think, especially when the problems are known only to the two of you.
When considering going to a therapy service to discuss one or more of these private problems, you may be worried. Worried about what your partner will say in therapy, worried about what the therapist will say. But when you and your partner learn to recognise how the problems in your relationship came about, you will become more empowered to resolve them creatively and together. With Counsellor Dean Richardson's assistance (who can even work with problems no-one has yet brought into counselling with him), you can feel a little better about the idea that couple counselling may be the best way to help you start to solve problems that were previously unsolvable.
Here follows some problems couples commonly work through in counselling. Do you recognise any that apply to your own relationship?
A sense that the reasons for staying in the relationship have become lost (to one or more of you).
Repeating patterns of unhappy behaviour that neither of you can shift… or shift for very long.
Attempts to reconcile after a breakup keep failing (old problems keep bring brought up).
You don't talk with each other very well (or any longer)… and when you do it seems to lead to arguments.
Open Relationships: you find yourself in an open-relationship, without planning such an event or being aware it was happening.
Your partner wants a child: but you do not. Compromise is of no help; the issue won't go away.
"Guest Star": you both wish to bring in a third for sex into your monogamous partnership, but don't know how best to go about this.
Gender transition: one or both of you undergoes gender transitioning, which you didn't expect would affect the relationship.
Who are you? You hooked up, sex was great, and moved in together. But was that enough for a long-term relationship?
Age Differences: one of you is in his 20s, the other in his 50s. it was never a problem until the past few years…
Different Cultures: When you met on holiday coming from different countries didn't matter. Recently you've been struggling.
You used to like how one of you took charge, but as the other grows he's feeling shut-up and oppressed.
You seem to relate like brothers/sisters now, instead of like the lovers you used to be, and you don't like this.
Intimacy problems: whether sexual intimacy, physical intimacy or emotional intimacy; the magic has become tragic.
Violence or abuse in the relationship (ranging from perhaps feeling bullied physically or emotionally, to full domestic violence and abuse).
One or both of you have acted outside the relationship's understanding (an affair, social-flirting, being let down etc).
Step-family problems: becoming a parent to someone else's child (adoption, partner's offspring, etc).
Family problems: your or your partner's family putting strain on your relationship.
Family planning: considering having or adopting children. surrogacy etc.
Death and/or loss: when major life changes effect how the two of you relate to each other.
About Dean Richardson MNCS(Accred/Reg)
You could choose any couple / group counsellor…
Given that this will be the most intimate and vulnerable you could be with your partner(s), you would want a skilled professional whose expertise you could trust, and whose focus would be upon your distinct relationship. Your couple or group relationship will be in good hands with Dean. He works from Great Britain, is Independent of "box 'em/shift 'em" therapy services and identifies as a gay couple counsellor. He's also easily payable in pounds sterling! Dean already had an impressive 15 years actual video "webcam" experience - way before the first British emergency began (when suddenly many counsellors added a Video option to their portfolio, having not practiced so previously! 🤔).
What makes Dean a Distinct Counsellor
Dean is sensitive and effective to your sexuality / gender-identity and intimate ways of relating to each other.
You'll discover quickly that Dean is an informed member of your own community.
Dean demonstrates adept skills with lesbian, gay, bisexual, asexual, fluid, mixed sexuality and same-or-mixed gender relationships having over 22 years expertise as a therapist.
Dean avoids the role of "all-knowing expert." Experts do not learn and adapt to new situations (such as your distinct relationship). Experts simply instruct using a pre-programmed approach 🤔.
Dean speaks plain English (and can swear like a virtuoso if you like, or not at all if you prefer). He works cooperatively with your relationship (no unnecessary silence, or just "hmms...").
Dean is an accredited member of The National Counselling Society. Accreditation is a valued recognition of his substantial expertise, originally awarded 13 years ago from another professional organisation. He is a member of the Psychotherapy and Counselling Union of Great Britain.
Dean is a British Counsellor working from the South of England. Unlike other counselling services operating from abroad 😲 Dean is actually registered, accredited, insured & supervised from within England (not from abroad).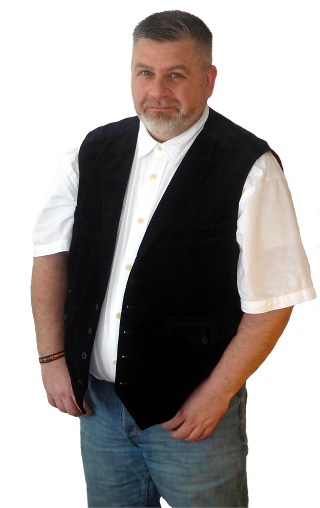 If any of this resonates with you and your partner(s), you should probably meet with the the Online, Gay Relationship, Real-time Video Counsellor: Dean Richardson MNCS(Accred/Reg) for yourself.
Dean focuses on LGBT/QIA+ relationships as a specialty in therapy. He works with individuals, couples and small groups. Plus, he's qualified to a postgraduate level (Chichester PG Diploma in Psychodynamic / Systemic Couple Counselling, IGA National Foundation in Group Counselling) as a private practice counsellor*.
(*Very Important: not all counsellors, particularly those who are initially trained to use common "Individual" Counselling skills, have such specific skills for working with couples nor groups. Nor do they have experience in working with therapeutic relationships. Such counsellors may try, perhaps out of misplaced goodwill, to employ "individual" techniques (multiplied by 2) but the couple or group will find that the approach is ineffective; it's the wrong approach. Your relationship is not part of the counsellor's primary theoretical framework nor rationale. Remember always to ask your potential counsellor: "what qualifies you to work with our relationship?" and trust your instincts based on what you hear back.